Update your space with a new poster or print from zazzle. They have hundreds of thousands of pictures for your walls. Honestly, there is something for everyone.
Whenever one of my friends says that they are bored with their living room and desire an update I always recommend changing out the wall décor. It is a whole lot easier than moving the furniture, painting the room or changing out the other home decorations.
A poster or print that is framed and hung on a feature wall will add ambiance to your space. Choose from floral, animals,
architectural
, seasons, and more for your wall art. Compliment the theme of your room or change the look with a poster or print.
Here are a few of my favorite poster and prints.
This vintage style living room features a dark chocolate sofa, accent chair and coordinating accessories including faux leather throw pillows that I designed. On the wall is a canvas print that I created from one of my original photographs of Plott hound hunting in the Florida Keys. This room set is warm and cozy, a perfect setting for reading a book or sipping herbal tea. Shop for dog wall art here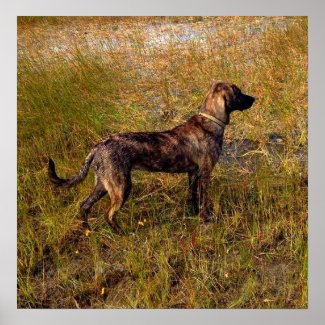 This home set was created to show my customers how to decorate a black living space with my artwork Shop for artwrok that will compliment a variety of home decor themes here